Drama was served up in spades as the 2018 Top Fuel Harley championship was decided between Doug Vancil and Spevco-sponsored Tii Tharpe in a final round run-off for at the National Hot Rod Association's U.S. Nationals at Lucas Oil Raceway in Indianapolis.
Sam Wills was the last Top Fuel winner on any kind of nitro motorcycle at the U.S. Nationals, and that was all the way back in 1984. To find a nitro Harley winner at the Big Go, you need to go even farther back—to Marion Owens in 1978.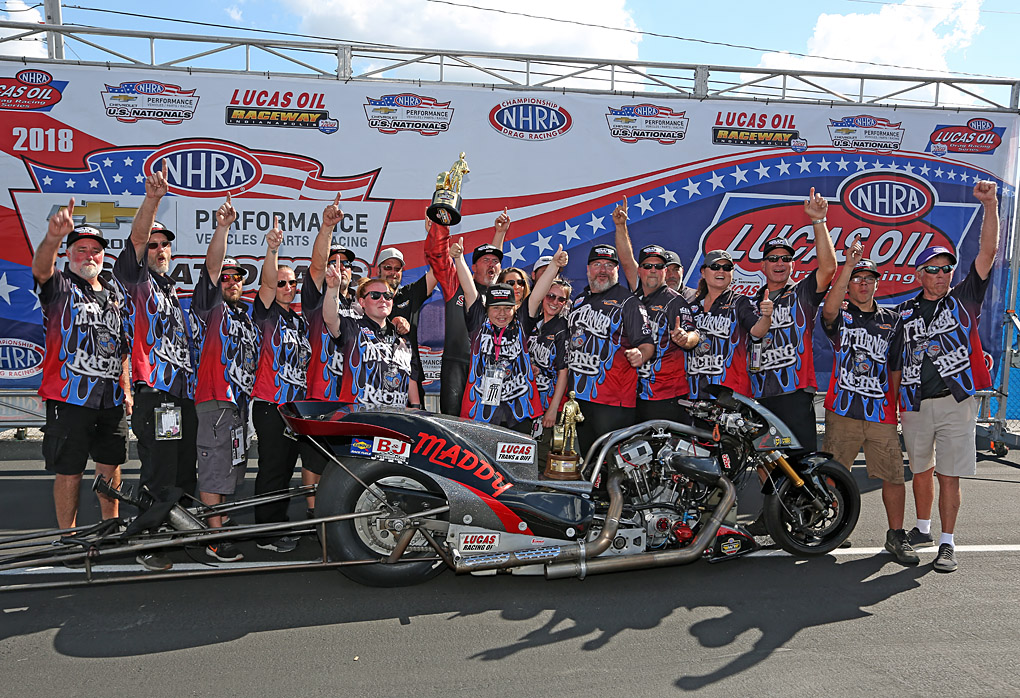 Now, in only the second season of what is arguably NHRA's most edgy and thrilling national event class, Top Fuel Harley has already matured into an incredibly fine vintage as the top two teams raced to Indy's final 1320 feet in the quickest and tightest field in the history of nitro Harley racing. Tharpe lit the winlight at the finishline for his first NHRA national championship and Jay Turner Racing's second straight—third if you include the last year the Harleys raced with the Lucas Oil series.
To be honest, in the week leading up to Indy, Tharpe seemed a little overwhelmed by the demands of the tail end of a season-long NHRA championship quest and his responsibilities as Spevco President. "The added pressure is something I could do without," he said. "Work is so busy, and that's good. But at the same time, it can be stressful just to get things done."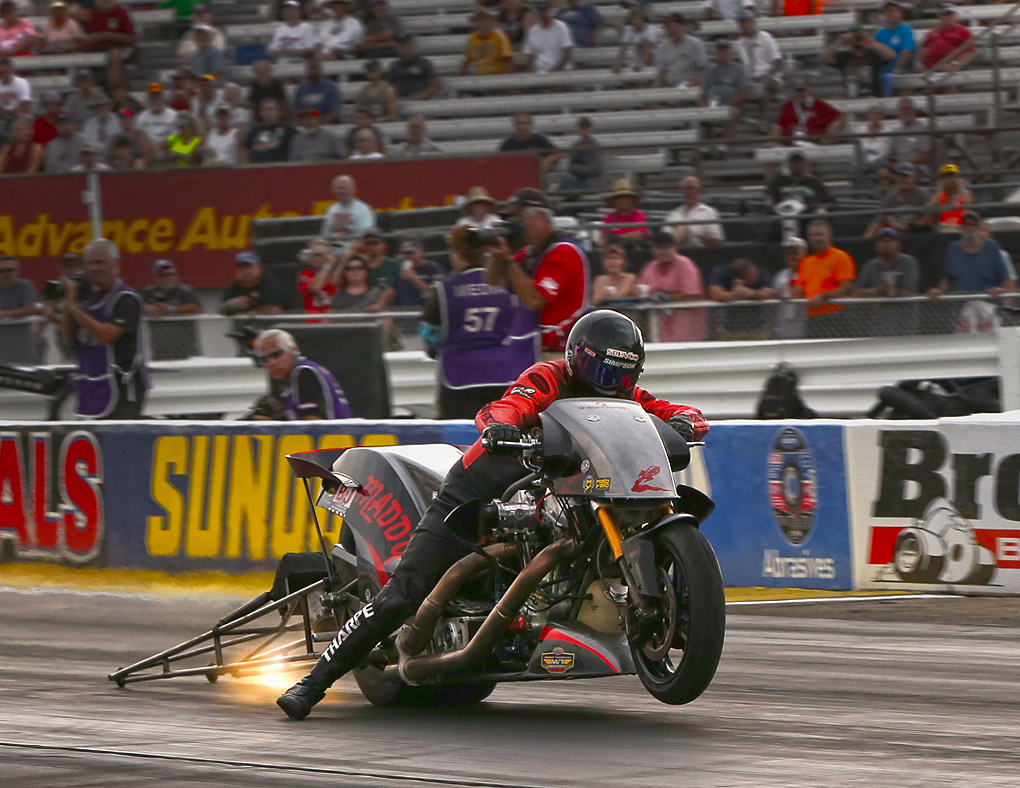 Which is a surprise. Tharpe exudes southern casualness, charm and style, and David Bowie and Queen's "Under Pressure" would not normally strike one as his theme song. More like the Allman Brothers' "Ramblin' Man."
But Tharpe handled the pressure at the track well, qualifying second with a 6.25 behind teammate Jay "Bulldog" Turner's number one 6.22.
Vancil just barely qualified. His seemingly solid 6.33 placed him on the bump spot—only 8th in the incredibly quick and tight field.
"That's for all the people who say Harley's can't get down the track," Turner said about the tight competition at the U.S. Nationals. "And it's just gonna keep gettin' better."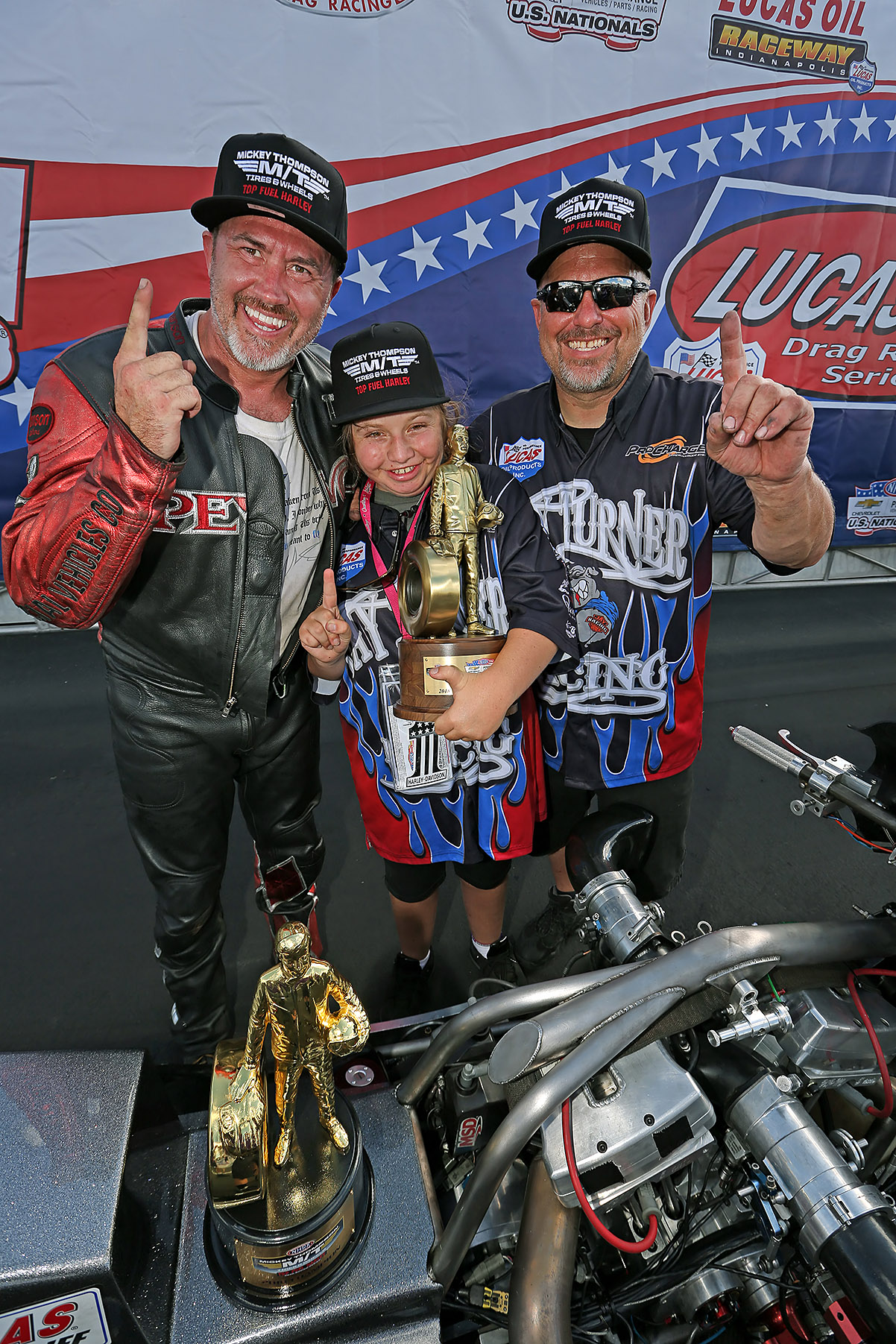 Well it couldn't get much better than what played out on raceday at Indy. Turner had the opportunity to end the drama early, facing Vancil in round 1. But Turner spun and Vancil won. When Rickey "Sharkey" House spun in the same lane right after Turner, Tharpe switched lanes to beat Chris Smith.
Tharpe then beat Jason Pridemore in round 2 to face Vancil in the winner-take-all final for the race win and the championship. Tii and Doug had identical lights and Vancil's bike was making a stronger run early in the pass. But then Doug dropped a cylinder and Tharpe thundered by for all the spoils.
For those who'd been following the whole season and knew that Tharpe and JTR had to miss the first race—a race that Vancil won—winning the championship from a race down was a big deal. "That's amazing," said fellow U.S. Nationals winner LE Tonglet. "That's really hard to do."
But achieving the difficult is a daily challenge for Tharpe and Spevco.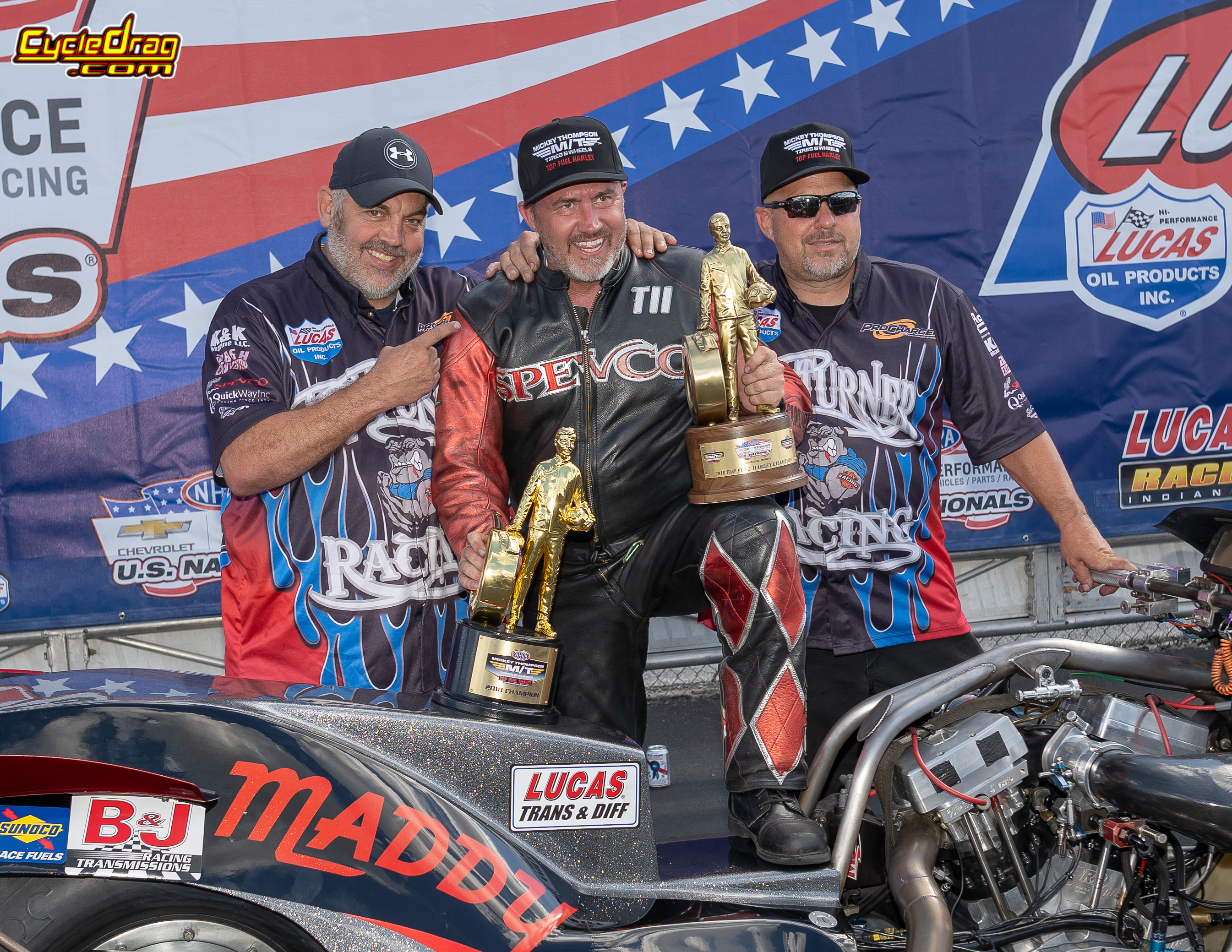 Spevco (Special Vehicles Company) was created to service the tobacco industry's mobile marketing needs with event-experience trucks and trailers when the Winston brand sponsored NASCAR and NHRA.
So when tobacco sports marketing was outlawed in the '90s, Spevco was dealt a serious blow. The company rebounded but was sent reeling again when corporate spending ceased worldwide in the financial crisis of 2008. "That mashed us," said Tharpe. "Those were tough times, but we pulled ourselves up by the bootstraps and things are pretty good now."
Tharpe makes Spevco's sponsorship work at the track. "Networking with the guys out here is an important part of our business," said Tii. "For instance, I could talk to Billy Torrence about a command center build for his pipeline construction company, and that's what we do."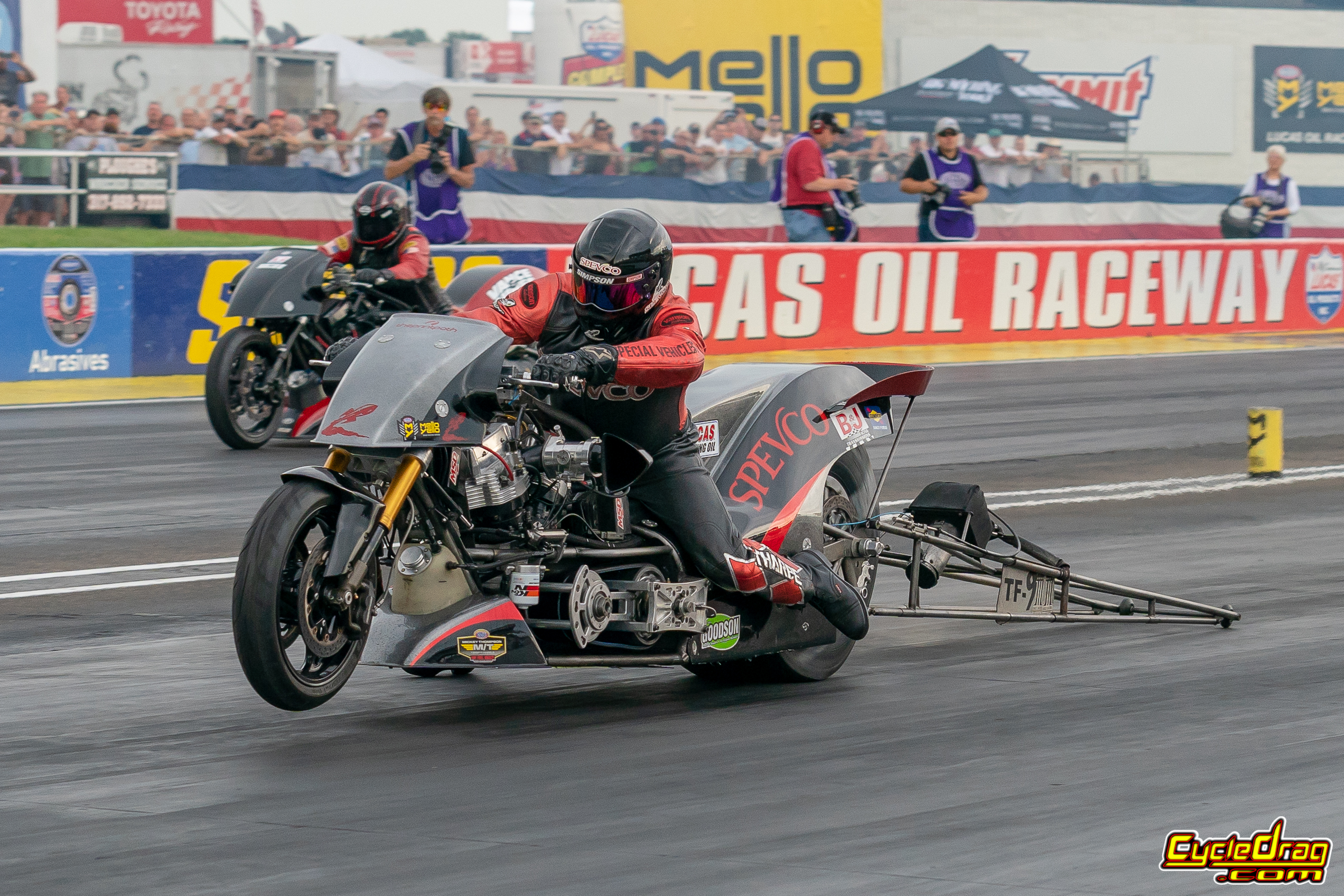 Spevco built all the midway display equipment the U.S. Army used during their long sponsorship of Don Schumacher Racing and the NHRA, AAA's display, the original Screenworks trailer, and many other midway staples that racing fans have known and loved.
Tharpe has always labored to make his racing and business lives work together. He started bracket racing in '97. "Then in '98 and '99 I raced Pro Mod with AHDRA (All Harley Drag Racing Association) and won the championship in '99."
Tharpe made the move to an injected, high gear nitro bike the following year before having Jim McClure assemble him a Top Fuel bike. Bill Furr sold him on electronics assembled by Rex Harris (currently a Jay Turner Racing tuner).
Tharpe raced himself out of money and parked the bike in '05, but Tracy Kile roped him back in five years later. "The economy got better, business got better, and I've been able to go back and race some more."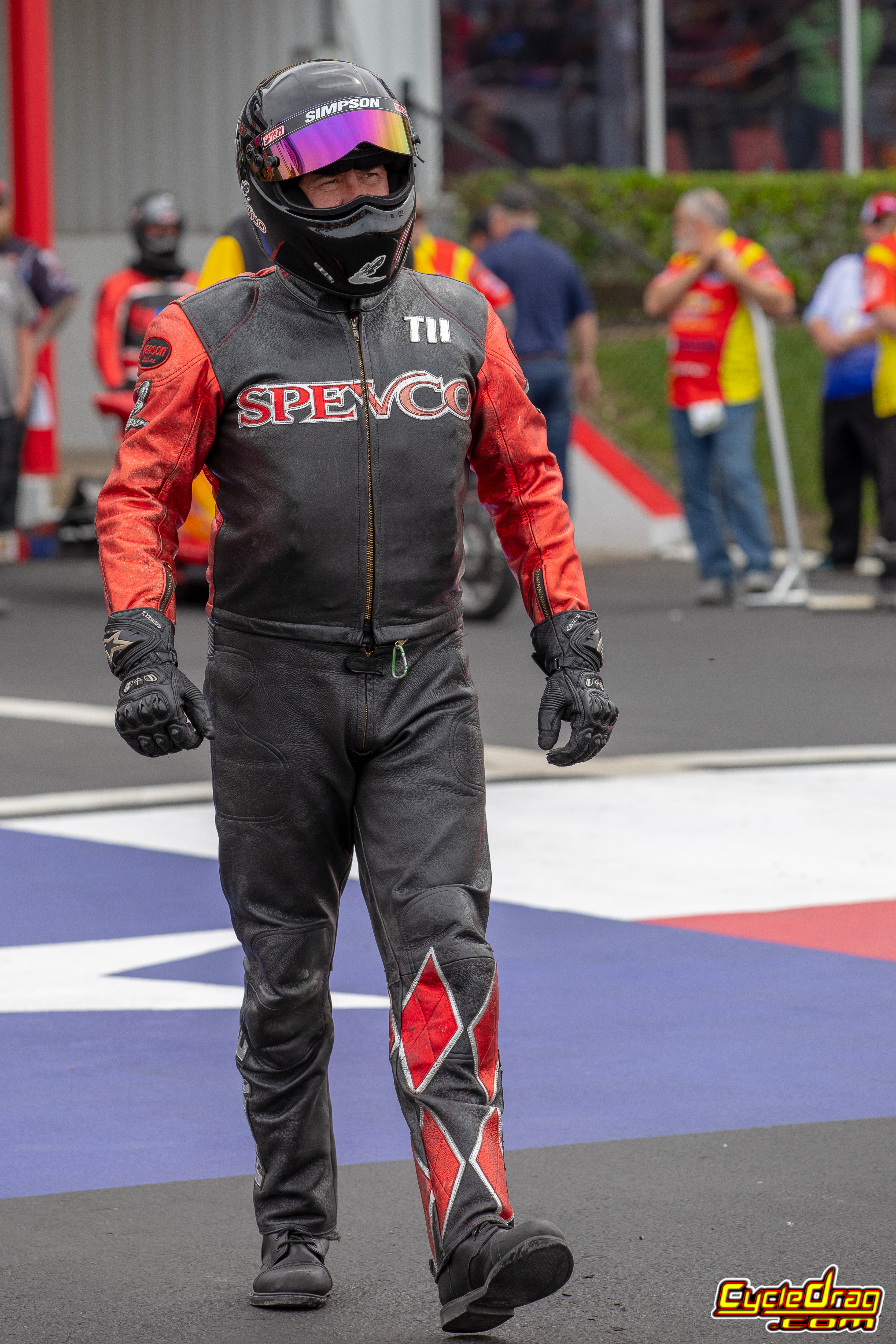 Then Tharpe hooked up with Turner. "I've known Jay for quite some time, but we really didn't like each other. He thought I was a brat and I thought he was an asshole. And both of those things are still true, but we get along much better.
"I'm in a great spot now, and definitely the best place I could be. I'm grateful to all those people along the way."
Watch this in-depth video of exactly what it took for Tharpe. Turner and JTR team to win the U.S. Nationals and the NHRA Top Fuel Harley championship: https://youtu.be/-RCGA2drOKc
Tii Tharpe thanks Spevco and all their employees http://spevco.com/ , Jay Turner Racing and the crew https://www.facebook.com/JTRTF/ , and his family and friends.