Drag racers attending the 2018 Nitro Up North event enjoyed summer-like conditions with temps in the 30+ degrees and wearing t-shirts and shorts.

The 2018 Nitro Up North is in its fourth running of this drag racing spectacular and with the support of the NT Government, it was the biggest and best yet!

Hidden Valley Dragway attracted over 130 entries from all over the country, including Tasmania, and with nitro-burning action from Top Fuel and Top Bike, over 11,000 fans turned up over the 2-day event.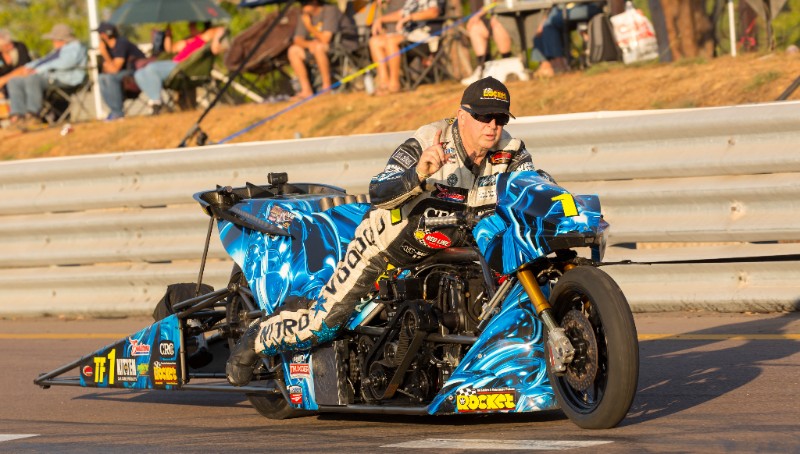 Fresh off winning his 5th Australian Top Bike Championship, Chris Matheson made the long haul from Brisbane to Darwin looking to kickstart his chase for a 6th title and a five-second ET!

"We love coming up to Darwin", said Matheson. The weather is good and the fans can't get enough of their nitro. This is our third Nitro Up North and we love it. The track is great and the Nitro Voodoo crew aren't complaining about the summer-like conditions.

Friday gave the Top Bike teams three test opportunities, and for two of them, Matheson set the pace with a 6.5 shakedown run and then a best of 6.24 seconds with an early shut off 201 mph [323 kph]

"The bike left hard and felt good but I rolled off the throttle early. I need to get the bike to run quick in the first sector so I can get the ET we are chasing, and still pull up in the breaking area", grinned Matheson.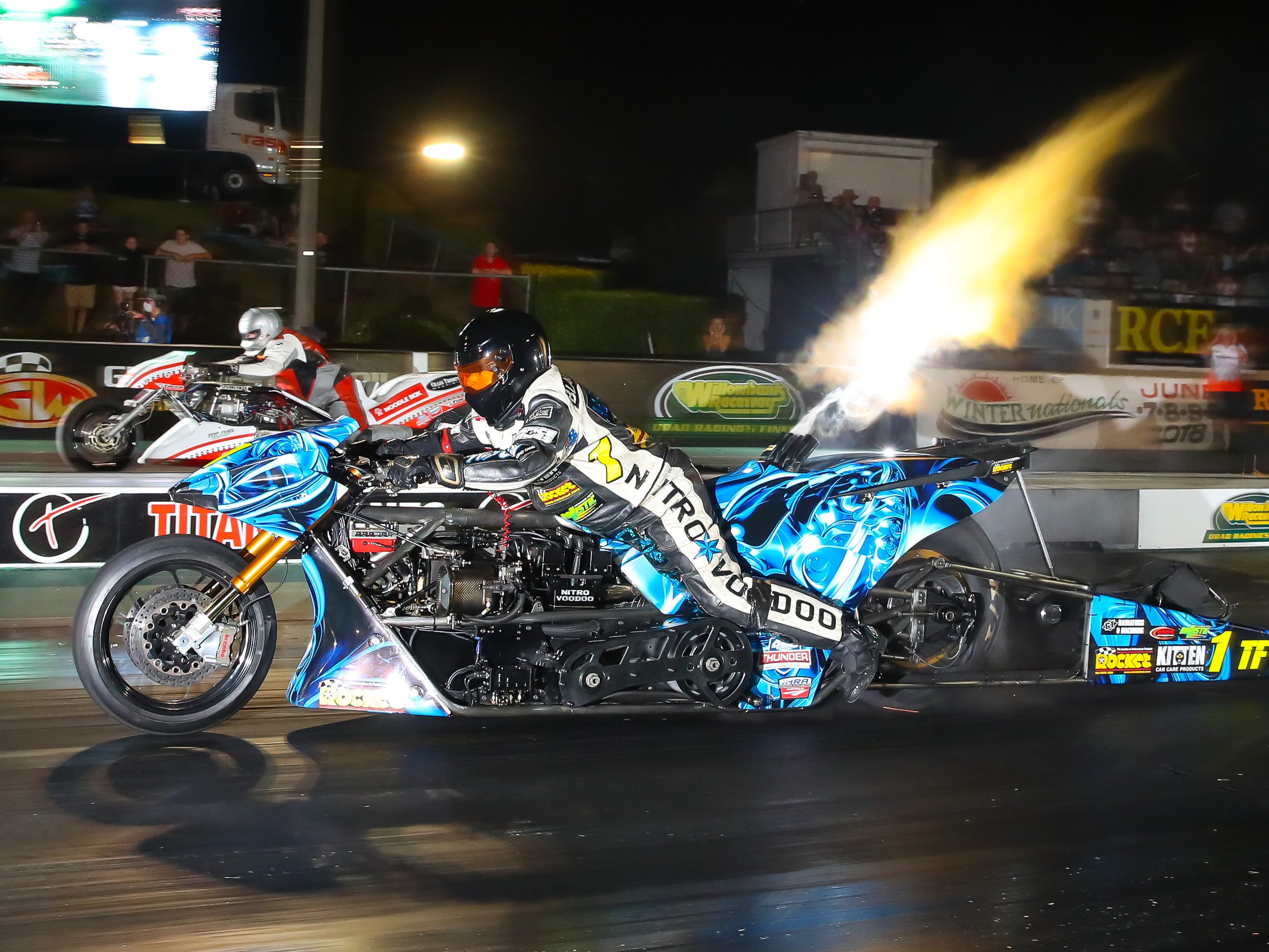 "That run felt good and we were able to reset our previous 6.26 seconds Hidden Valley track record which was a great start to the weekend. Unfortunately in the breaking area, I had an issue with the front tyre as it delaminated giving me a higher than normal heart rate."

With no spare the team sat out the final test session to prepare for the following day.

"Special thanks to Matt and Steve from Cyclone Motorcycles for getting us back on track and fitting a new front tyre in the morning.

The first round on Saturday saw Nitro Voodoo take on Tony Wood. It turned into a solo with Wood having problems and being pushed back. Matheson left on the green with a cylinder out early and then clicked it off to an 8.79 at 103 mph [166 kph].

The second round matchup between Jay Upton and Matheson was the one everyone was waiting to see – two of the giants of Top Fuel Motorcycle in Australia. As such Matheson turned it up for the challenge.

On the green Nitro Voodoo was nearly a tenth of a second quicker to the 60-foot timers but shortly after spun the tyre and was on and off the throttle recording a 7.10 ET with a chasing 212 mph [341 kph] speed.

"I knew I needed to run quicker than Les Holden's earlier 7.6 ET if I was to make the final," said Matheson. I don't normally like getting on and off the throttle but that's what I needed to do to get the job done and grab as many points as I could. I had three pedals and was closing in on Jay."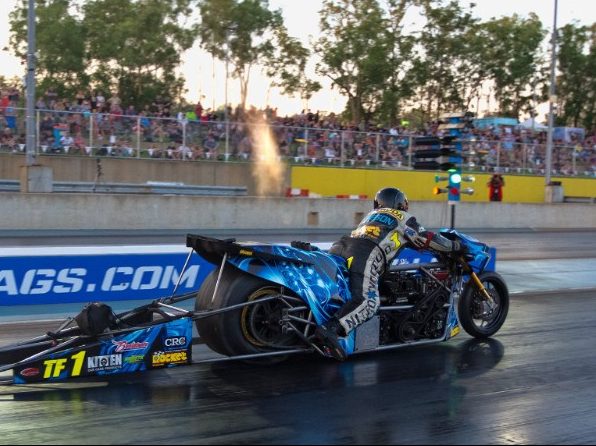 The final run paired Matheson and Upton again and unfortunately, the result was the same with Nitro Voodoo spinning the tyre and the exhaust flame going out early.

"We went for it on the final run," said Matheson."On the hit, she spun the tyre again so I guess we added a little too much power for the track to handle.
Congrats to Jay on his win, and it's good news that he plans to contest the entire Top Bike series this season.
In the meantime, we are happy to have come away with a new track record, Low ET, and Top Speed. This bagged us some good points in our quest for a 6th Championship.

Matheson finished, "I also want to thank my awesome crew, my family, and sponsors who make this all happen."

Next round of the 2018/19 400 Thunder Top Bike Championship is at Sydney Dragway's East Coast Thunder on the 2nd & 3rd of November.

Also make sure you lock in August 26 in your diary as Matheson will be appearing on SBS Speedweek as part of the 400 Thunder Top Bike coverage from the 2018 Gulf Western Oil 51st Winternationals. The program kicks off from 1 pm AEST.
Chris Matheson Racing is proudly supported by the following sponsors – Kitten Ultra, Rocket Industries, CRC, Web Cam Racing Cams, Larry McBride, World Wide Bearing Company, Boninfante Friction Inc, Performance Decals & Signage, Bill Furr Orangeburg Cycle Racing, Hi-Side Leather Repair, Performance Wholesale, GT Radiators & Machining, GT Radiators, Boninfante, Great Southern Diesel Services, Aeroflow Performance and Ballistic Performance Parts.