Dick Boxell, crewman for Chris Hand's "Redneck Express" Top Fuel Motorcycle passed along the following team blog from the Man Cup Finals from South Georgia Motorsports Park, Nov. 19-21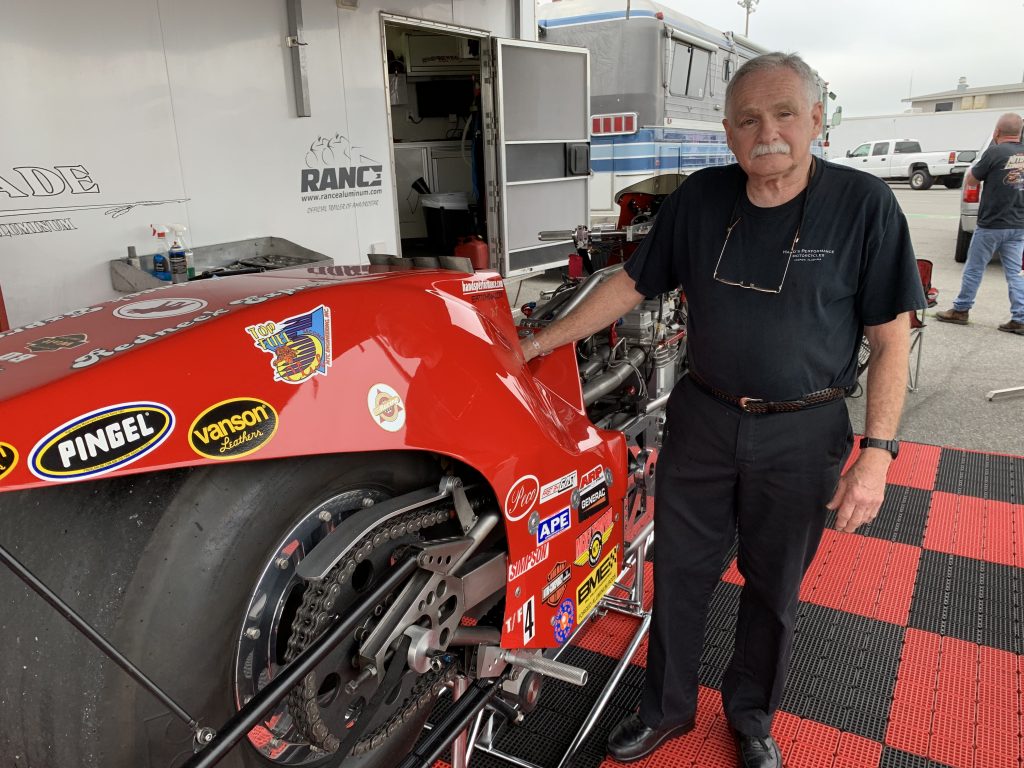 Back to ¼ mile racing !
The crew for this race consisted of Crew chief Sharon Hand, Steve Legendre, Jim Fox, Mark Dodson and Dick Boxell, with additional help from Chuck Stuart and Ron Raymond
Chris had two complete powerplants ready for action, with Patton in the bike,
Saturday Q2
Saturday morning we set up the pit area and ready the bike ,we fire the bike to check for operation of the bike and a fuel leak shows up and as we get it repaired we hear Top Fuel running down track on the Q2 passes.
Saturday Q 3 , Left Lane
We ready the bike again and tow up to the staging lanes. Sharon runs the starter while Fox runs the squirter to start the bike and it refuses to fire although it ran fine 2-1/2 hours before Do some investigating after we get the bike back change the points box , no change, we then change the Mag , turn the bike over WE HAVE SPARK! .
Sunday E1 , Right Lane
Due to the graciousness of all the other Top Fuel competitors Dave Vantine , Mitch Brown , Sam Wills , Walter Halonski , Tadashi Reggie Saitou and Don Johnson and their teams , and big thanks to Jay Regan and ManCup, we are placed on the ladder in 6th position
We are scheduled to run Dave Vantine first round.
We ready the bike for todays elimination runs and tow up to the staging lanes. Sharon runs the starter while Fox runs the squirter,start the bike, Chris rolls through the waterbox, Fox Wipes the front tire and Chris does his burnout.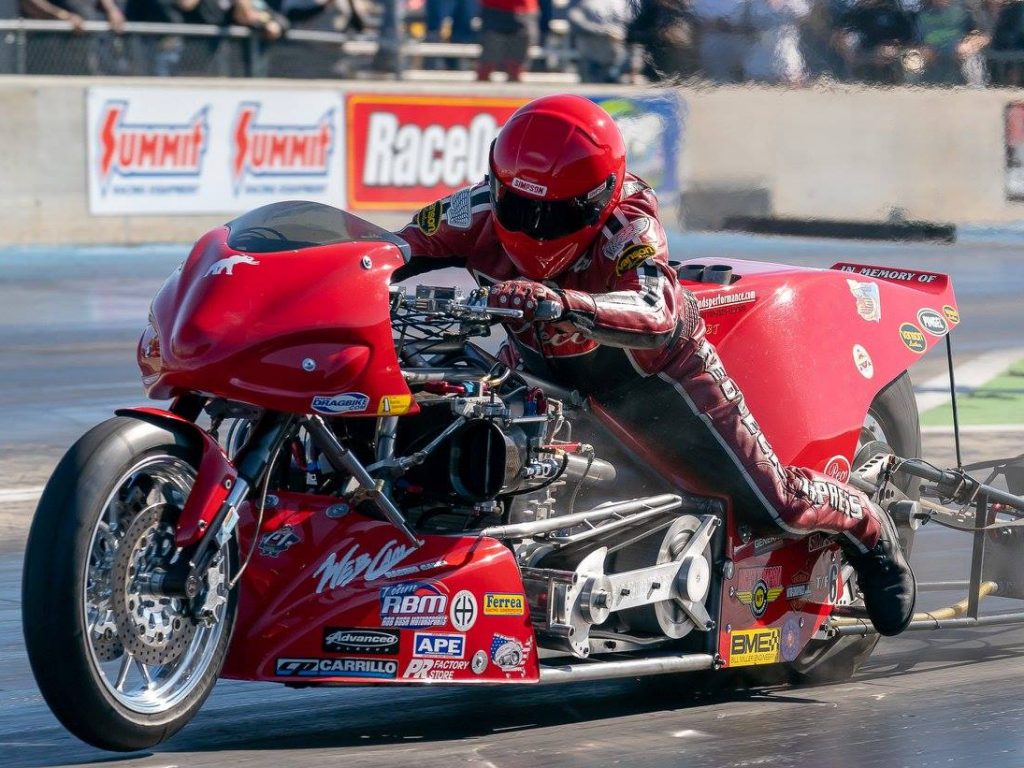 Myself and the drafted Ron Raymond start to push the bike back with the direction from Fox and Chuck Stuart, we run out of gas pushing back and Jim Fox grabs the wheelie bar and we finally get the bike back so Chris can stage the bike.
Chris lines up Prestages , Sharon turns on the computer , Chris stages, the lights flash , the bike get about 60 ft out and I see a huge cloud of clutch dust and the bike runs down the track at a good clip but on the losing end of the race.
Our 6.227 @215.75 vs Daves 5.839@242.02
Thank you SGMP for the great facility ,
Many thanks to Jay and Dianne Eshbach amd A.P.E Performance for sponsoring the Top Fuel Class for this event!!
Congrats to Mitch Brown And team on the win

There are more videos on the Cycledrag Youtube channel (please subscribe here) and the Cycledrag.com Facebook page (Please like here) and more will be coming soon. Check back daily.
We would like to recognize and thank our Marketing Partners.
PECO Foods, The first on any menu, Denny Hickman and Family
CP Pistons
Mickey Thompson tires
Halbrooks Huneycutt Engineering
WebCam Camshafts
Vanson Leathers
Advanced Sleeve
Ron Hodge
Rob Bush Motorsports
ARP, (Automotive Racing Products)
Boninfante
Rod Rance
Generac
Belt Drives Limited
Performance Machine
Sam Wills (Racing Innovations)
PR Factory Store
Ferrea Valves
Worldwide Bearings
MSD Ignitions
BME Connecting Rods
Hands Performance
Simpson