The long-awaited return of the beloved AHDRA American motorcycle drag racing series lit up Illinois' Cordova International Raceway on the most American of days—July 4.

Pennsylvania Harley-Davidson dealer Rich Vreeland had the honor of taking the new AHDRA's first Top Fuel win—despite spotting runner-up Jim Fagan .135 at the tree. After that it was all pedalfest in the heat of the day, with Fagan's bike finally dropping a hole and Vreeland thundering across the finishline first.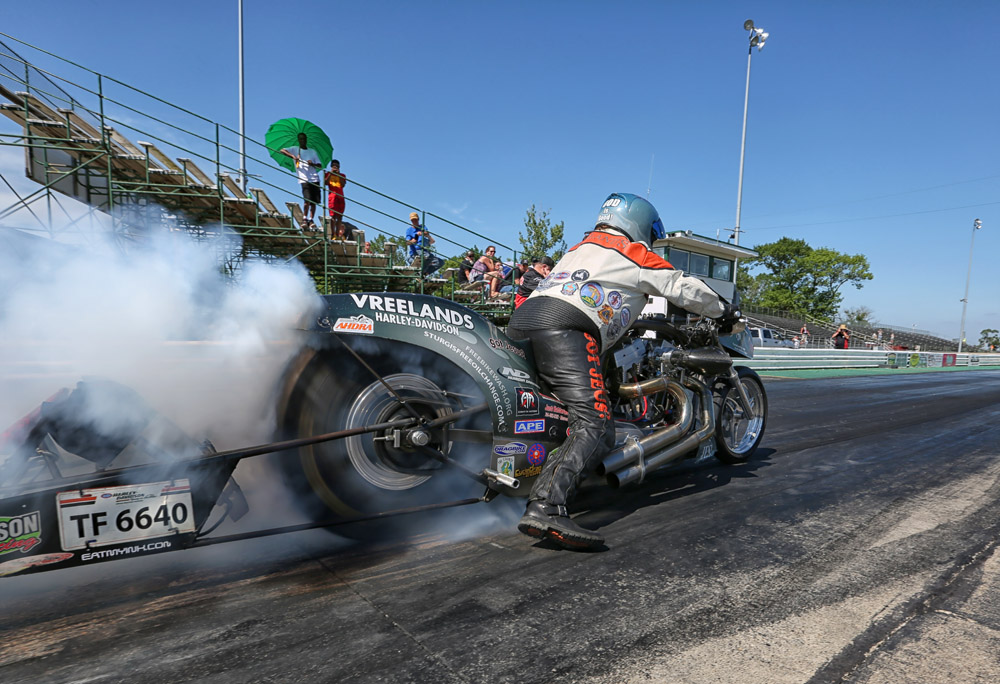 "I'd like to thank the team, our sponsors, Worldwide Bearings, Advanced Sleeve, Numidia Dragway, Goodson, Christ in Action, and the AHDRA for putting on the event," said Vreeland.
"Bill Rowe and (the AHDRA) staff put on a good show for all those who attended," added Hawaya Racing Pro Dragster winner Preston Bartlett. "Thanks to all who participated, and 'Thank you' to our LSR sponsors.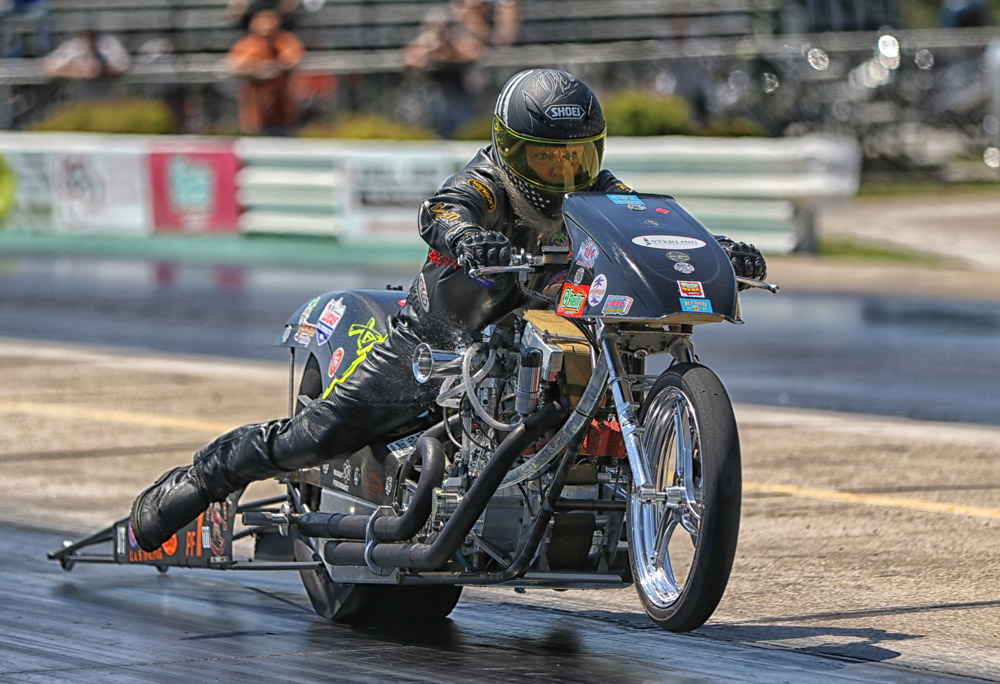 "The Cordova staff did a fine job, giving the competitors a surprisingly tight race track. At one point, we saw 139-degree track temp. Weather conditions made tuning tricky, especially for the nitro bikes."
Equally hot was sportsman racer Kevin Winters' tree game. The Richmond, Illinois racer had a spot-on .006 in the 10.90 index final against Brad Reiss Jr. Well behind with a .121, Reiss slowed and watched Winters roll on to the win.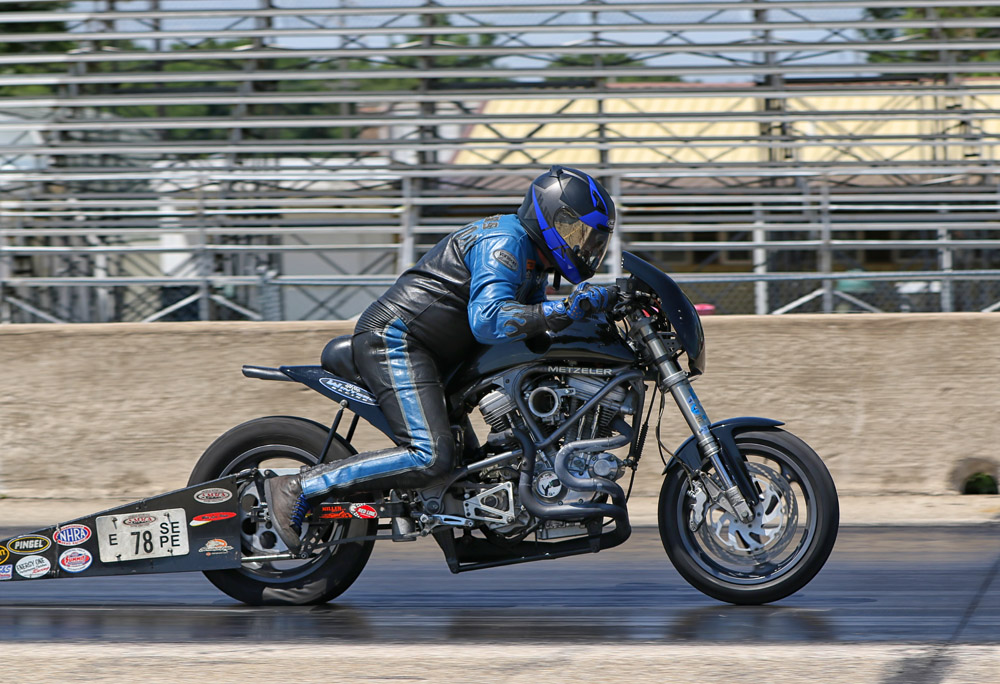 Kevin eased up to an .055 against his Crete's Performance 11.50 final round opponent Charlie Walker. Charlie's .296 was about as far off of Winters' light as Reiss' was, but Charlie ran the number—an 11.51. Winters and his Buell were still able to comfortably take the stripe with an 11.60 for his second win of the day.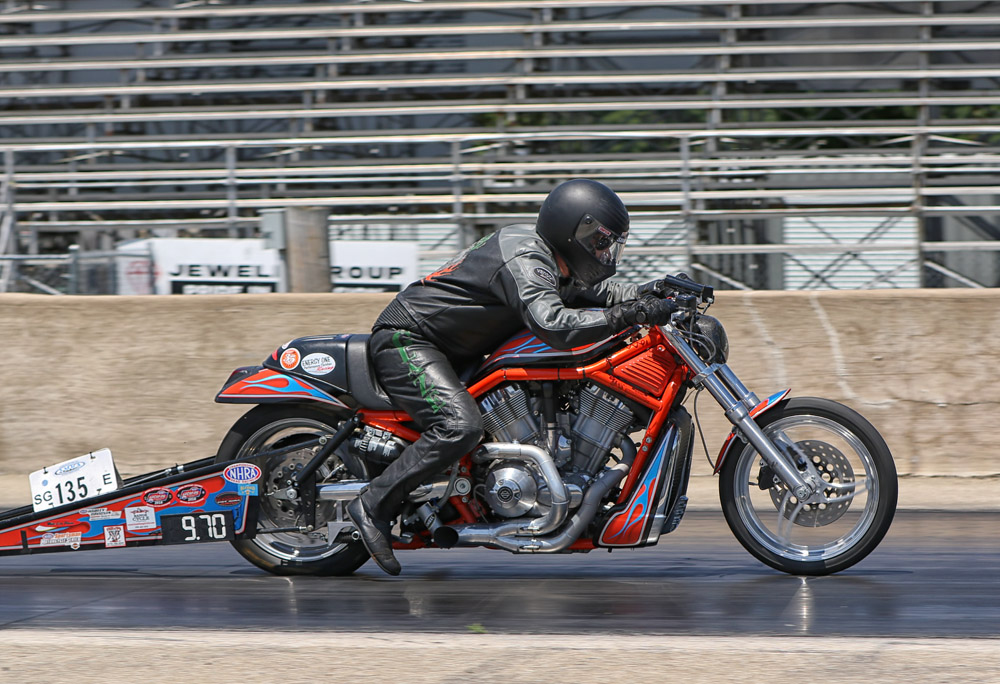 Mississippian Walker had one more final to run—Workhorse ET against Coloradan Joe Glaze. Charlie's light improved to a .226, but Glaze's .131 still seized the moment and Joe was able to hold on for the win with a 9.75 on his 9.65 dial-in.
9.70 index winner Robert Alther originally built his 2000 Road King in 2011 to race with AHDRA, "But before I finished it the AHDRA went away," said Alther. "So I spent the last eight years racing Division 7 Summit ET.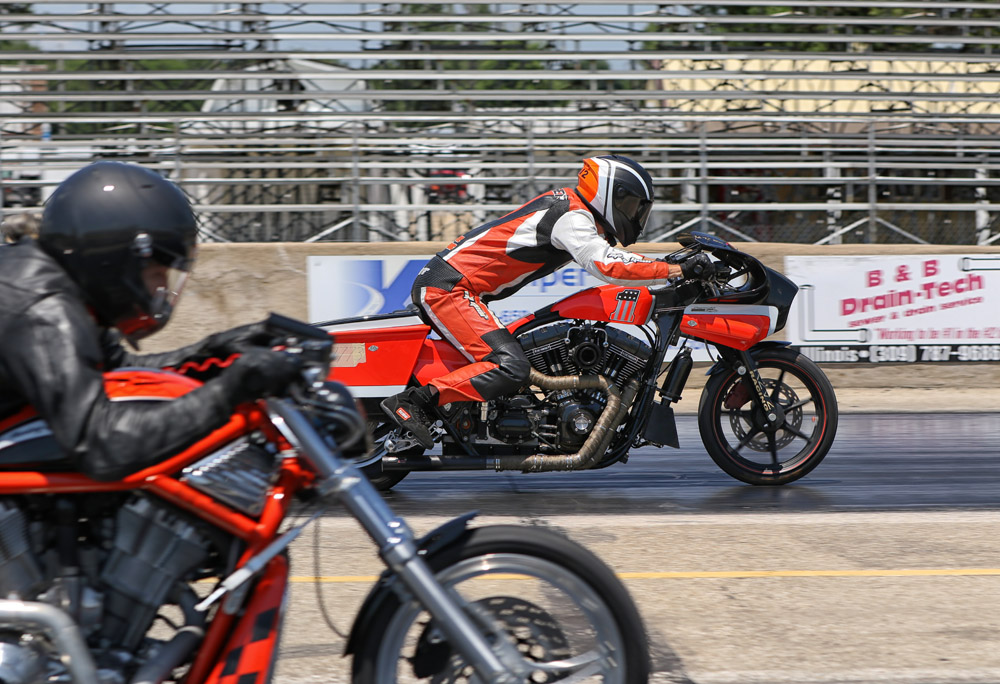 "It has a 117 cubic inch engine, stock frame, trans, primary and swingarm. Fuel injection is from S&S, it has a Daytona Twin Tec, and runs a five inch drag slick from M&H tires."
Milwaukee-based Alther nailed the tree in the final with an .012. Runner-up John Schotts left a full .272 later and that was all she wrote.
"My only sponsor is my race team R2V2 Racing," continued Alther. "This weekend was a happy time for me. My father has not been able to come to any of my races since I started. This was the first race he has attended with me and now it's a winning memory to boot.
"I appreciate everything Bill (Rowe) and his staff have done to make the AHDRA dream a reality. Thanks Bill!"
Jeff Workman worked his way through the Zippers Performance Modified field, taking the final over Don Leslie. "The racers that were there, we been battling each other for years," said Workman.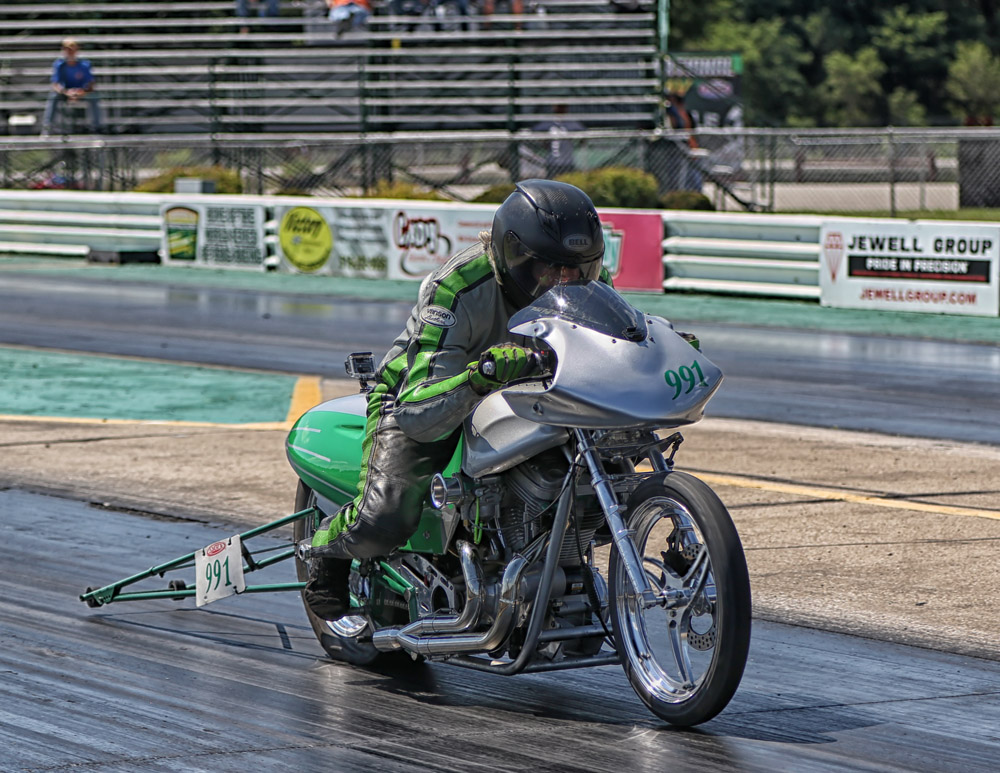 Jeff's bike is a custom frame built by Danford Bro's Racing with an 88″ motor. "It's mostly all modified Harley parts except for the crank and carburetor. They are S&S. Nothing fancy—a one-piece body, fueled by Powermist, and driven by Rebel Gears.
"Got my bike running the best this weekend—no problems at all. The track was nice and sticky. A great way to start the season, finally."
Outlaw Street featured a battle between two big-time builders—GMS Racing Engines and Mad Monkey Motorsports. It was GMS that came out on top this time, with Dan Dennis taking the win over Mad Monkey customer Ryland Mason.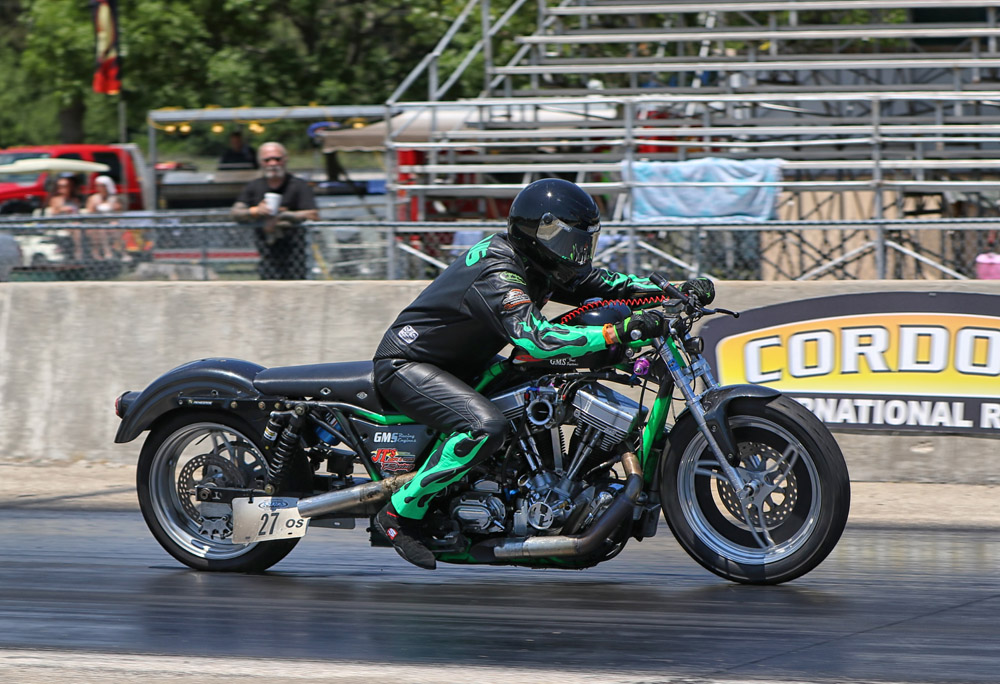 "Great weekend of AHDRA racing in Cordova!" said Dennis. "Huge 'Thank you' to Damon for all your technical assistance and DPO. Also, 'Thank you" to GMS Racing Engines for the awesome ride you have built for us. Looking forward to the next race!"
A-1 Cycles' Mike Beland is also a big-time builder, but his girlfriend had other plans for him on the 4th. So Spencer Spitzmiller carried the A1 flag for Beland this weekend, and in a battle that's been raging since the womb, Spencer beat twin bother Sam in A-1 Cycles Extreme Bagger.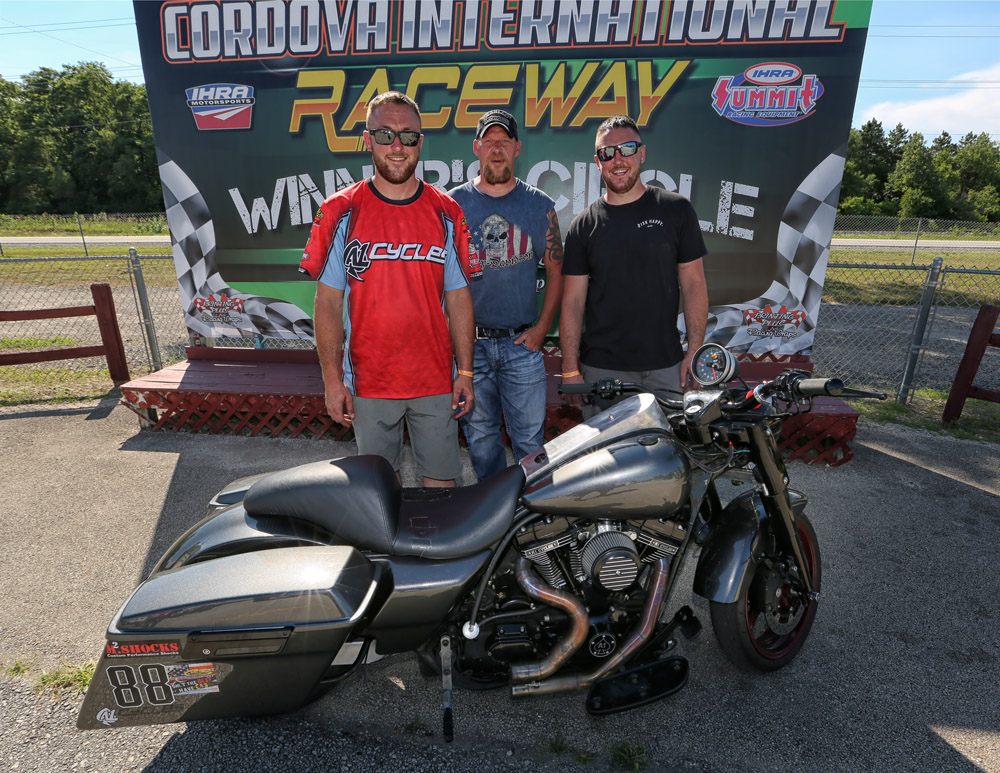 Interestingly, Sam's bike is a George Bryce Star Power build. Spencer's bike was originally a GB3 piece, but he's since had Beland doing his work. He's currently hitting the turn signal button for a nitrous hit but has a turbo on order to Be Like Mike.
"Mike's been a huge help, big thanks to him," said Spencer, who pours concrete for a living and added a C&S arm just before the event. "The bike was in pieces, and Mike and Jeremy Wilson helped me out big time."
Wilson also helped himself to a win. His 11.02 was good enough to take the Mad Monkey Motorsports Bagger final over the Mad Monkey himself, Branon White. White was OK with his bike's performance, given that he only built the bike two days before the event.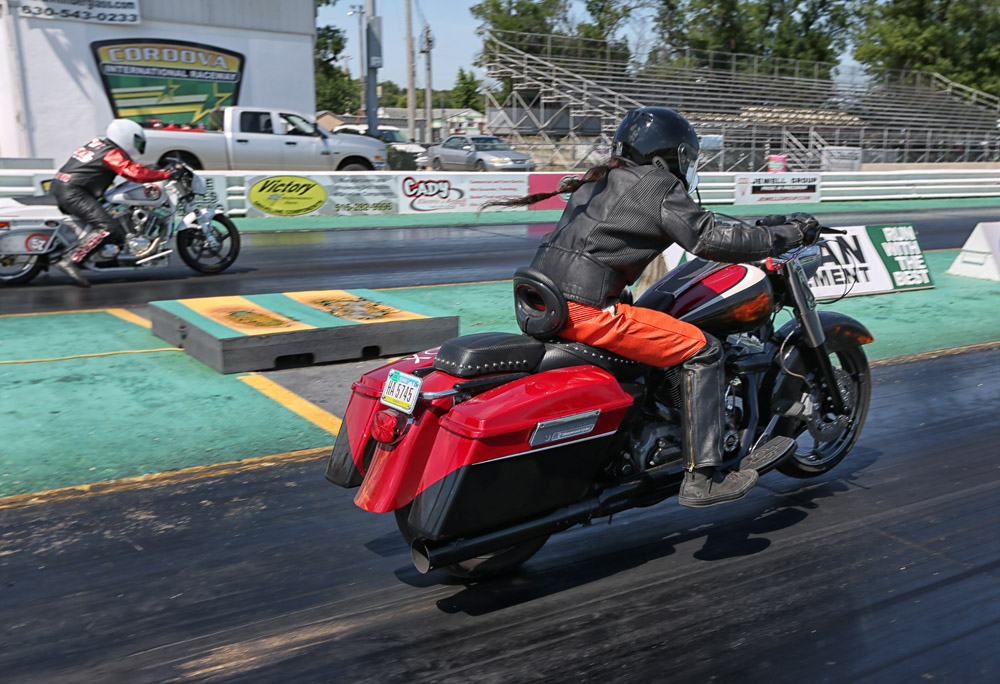 Davnport's Matt Hauser ceded the tree .194 to .175 to number one qualifier Thomas Krava in the 10.30 index final, but Krava's 10.59 fell far short of the number despite crossing the finishline 5 mph faster than Hauser's 10.35 at 120.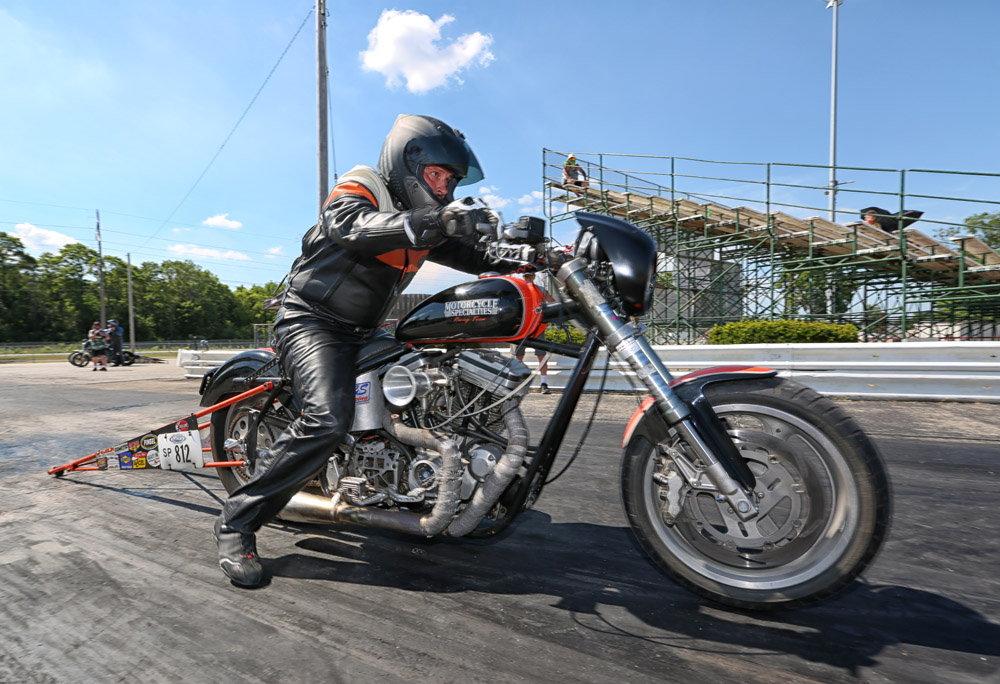 Motor Company employee Kevin Morris took the Horsepower Inc. Hot Street win oh his evil #666, and Richard Boone won T-Man Performance Pro Mod.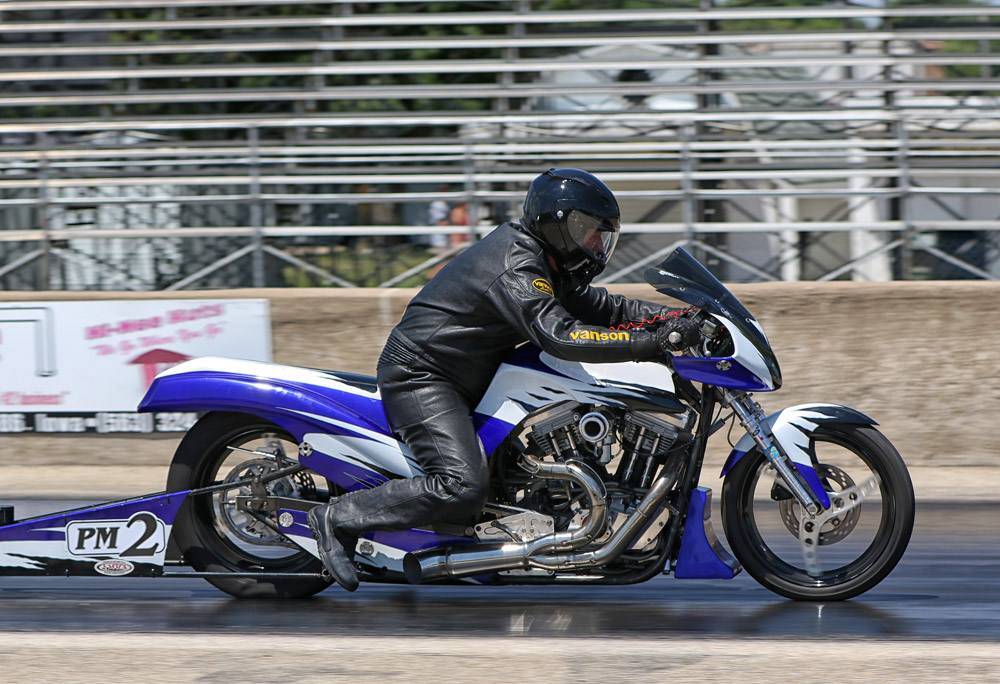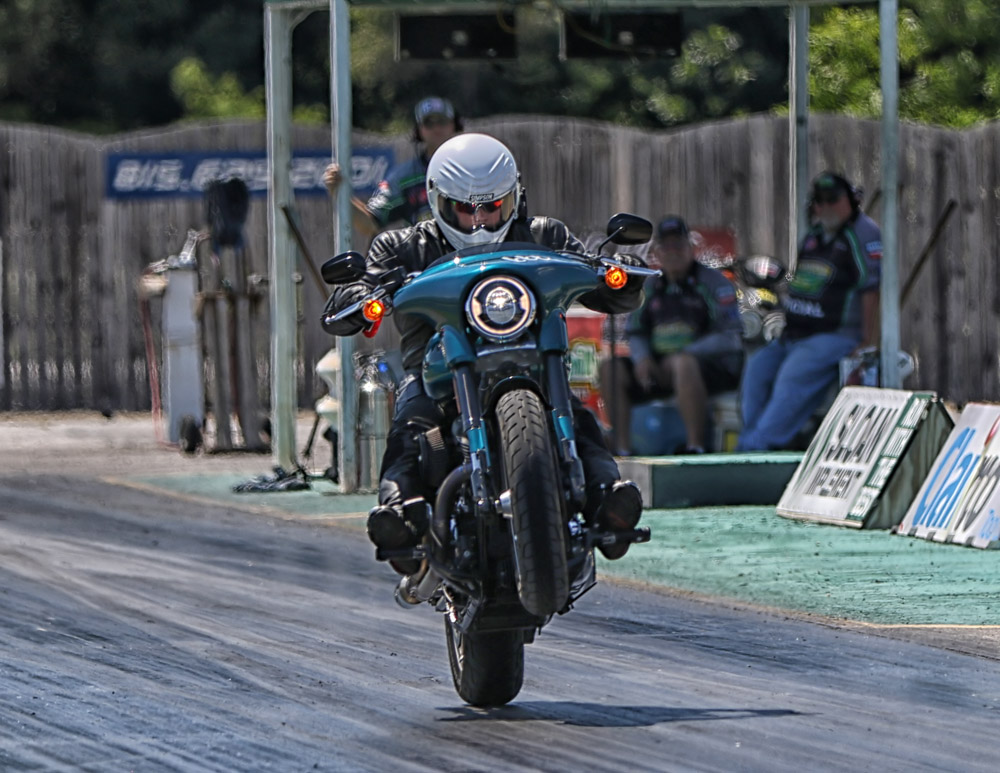 AHDRA returns to the track for the Nitro Spring Nationals at North Carolina's legendary Rockingham Dragway on July 31-August 2, 2020. You do not want to miss AHDRA's return to The Rock!
After that it's on to Stugis on August 10-11 and Numedia on August 29-30. August is "get busy with AHDRA" month!
The AHDRA website is at http://raceahdra.com/
The AHDRA Facebook page is at https://www.facebook.com/ahdraracing/
The AHDRA Facebook group can be found at https://www.facebook.com/groups/AHDRA/
For more information, email AHDRA's Bill Rowe at bcrowe92891@gmail.com
AHDRA is owned by Pulse Marketing, the Hellertown, Pennsylvania-based motorsports promotion company run by veteran drag racer Rowe and his family.
There are more videos on the Cycledrag Youtube channel (please subscribe here) and the Cycledrag.com Facebook page (Please like here) and more will be coming soon. Check back daily.
To take advantage of some amazing discounts at Brock's Performance, click – http://brocksperformance.com?aff=12