AHDRA/AMA All-American motorcycle drag racing is bringing their thundering, flame-throwing Nitro Harley show to the recently upgraded Kuhnle Motorsports Park in Thompson, Ohio, on June 9-11.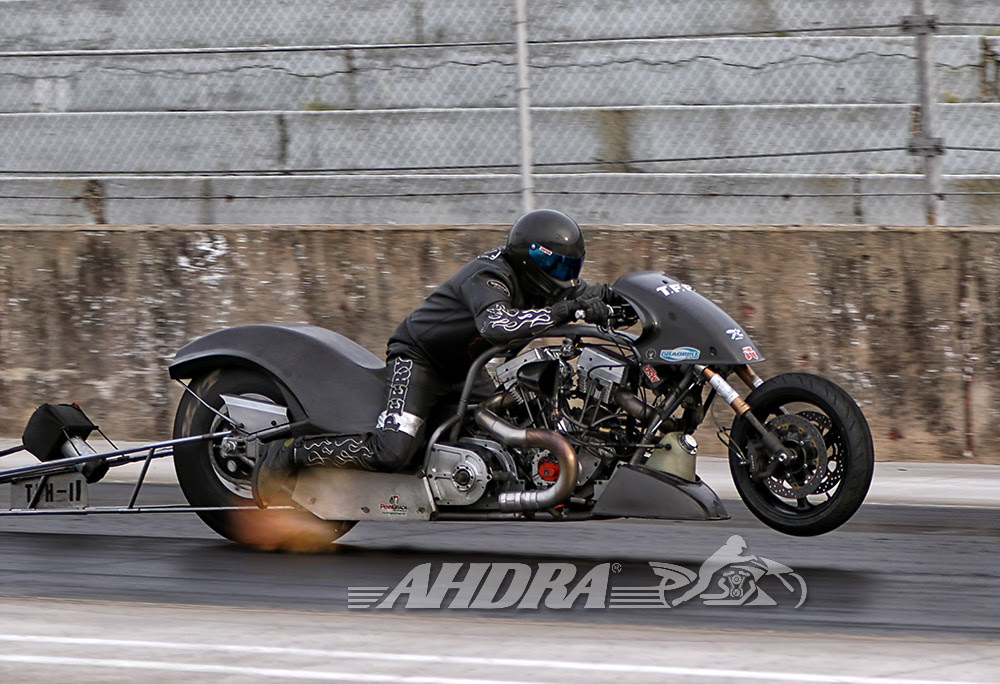 AHDRA's Top Fuel heroes and gasoline studs will hustle pro and sportsman bikes down the Kuhnle quarter mile, thrilling spectators all weekend long at the Advanced Sleeve All-Harley Nitro Buckeye Nationals.
Defending Top Fuel champ Tracy Kile will take on Ohio racer Ryan Perry—the 2021 champion—and more in the marquee class. Ohio is the home of several other Top Fuel Harley racers, and we can expect to see local stud Chris Streeter and the awe-inspiring "Gunslinger" of Jason Pridemore. Derrick Nelson, Smokin' Dean Ryan and more will turn out and burn out.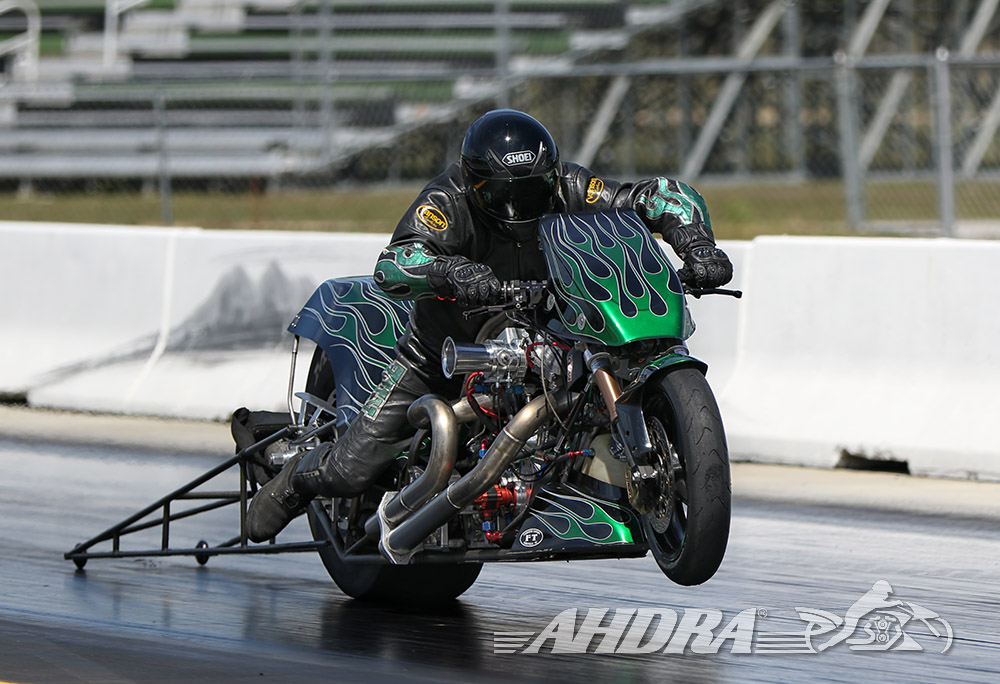 In addition to his Top Fuel bike, Peery will be riding his "Big Nasty" Nitro Funnybike. "Running a one day event with just one bike with a small crew is really tough, running it with two bikes is just plain crazy," Peery said following the recent Rockingham event. But crazy is as crazy does and Peery will have both bikes out again at Kuhnle.
Peery will have to deal with champion Michael Balch, Armon Furr and more in the high gear only class.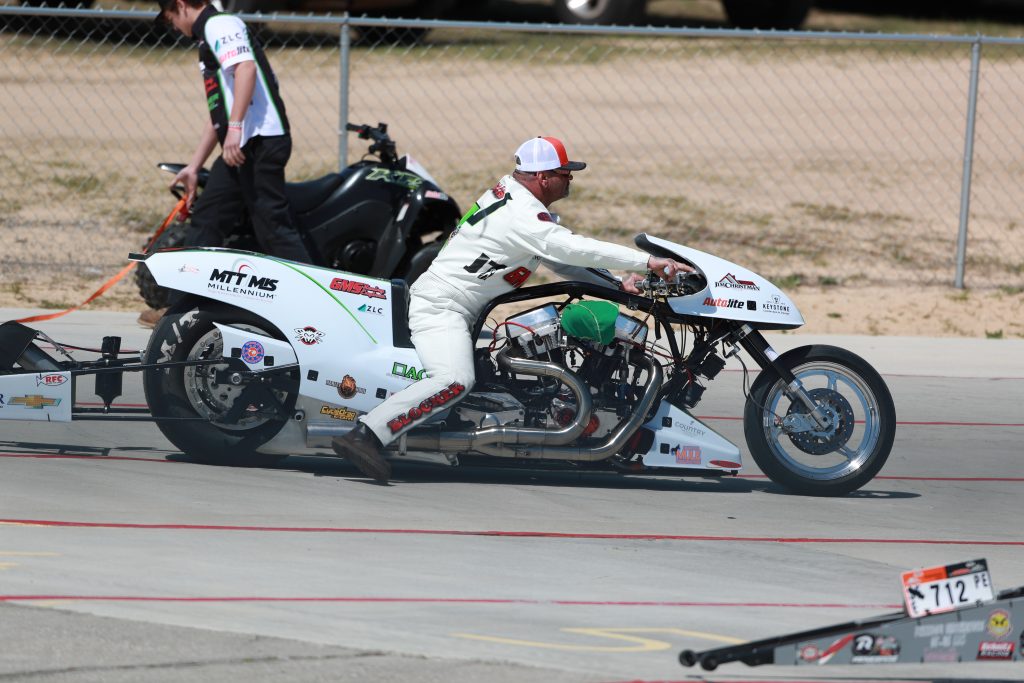 Defending Hawaya Racing Pro Fuel champion Sam White has won both AHDRA races this year and looks to continue the sweep at Kuhnle. But he'll face a tough field of "Bad Apple Mary" Dangrow, Jim "Bad Influence" Martin, Jason Leeper and more.
GMS Racing Engines Xtreme Outlaw often comes down to a classic nitrous vs. turbo battle between Mike Motto (nitrous) and Charley Douglass (turbo) in this practically unlimited class of no-bar, street tire monsters.
Zipper's Performance Products Pro Modified, Axtell Cylinders Super Modified, Pingel Modified, and MTC Pro Comp Outlaw Bagger all race out the backdoor with winning riders John Price, Kimberly "K-Charm" Deshields, Gary Douglass, Keith Carper, Jeff Workman, Chris Wood, Perry Paugh and more all looking for cash and glory in Ohio.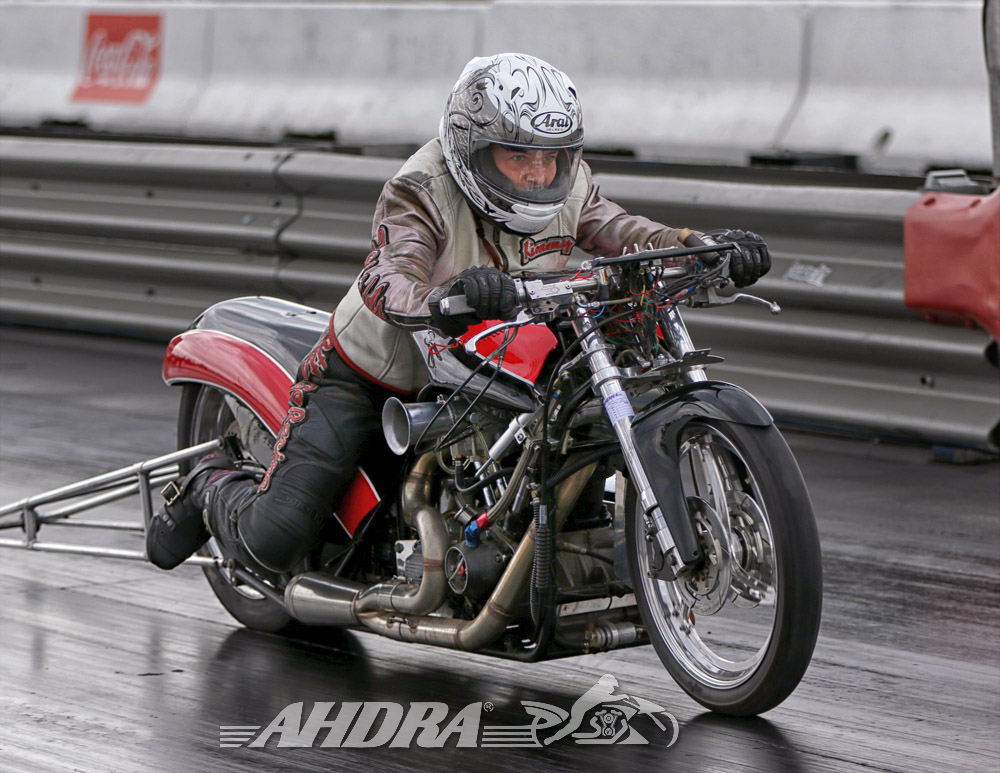 Vreeland's Harley-Davidson 9.90, 9.30, 11.50 and 10.30 index, Universal Fleet & Tire 10.90, Trophy, and Eliminator all race to an index or dial-in, with big-time sportsman racers Chris Hoppe, Ken Strauss, Cody Hayworth, Freddy Frazier, Manny "Taco" Carrasquillo, Daryl Pellegrini, Stoney Westbrook, Chris Ussery, Bruce Croneberger, Charlie Walker amongst those expected to attend.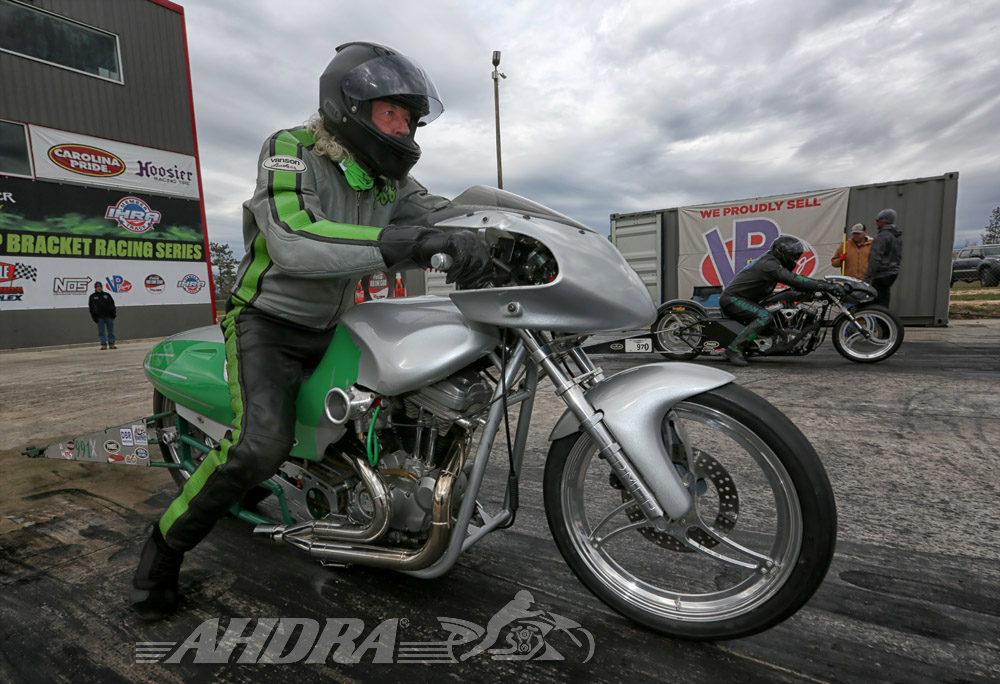 Junior Dragbikes continues to grow, giving the heretofore dominant Hines brothers—Michael Jr. and Jaden—some serious competition.
Want to race your own Harley-Davidson, Indian or Buell motorcycle? Bring it! We've got a class for you.
Spectator passes are $25 for one day, $45 for two, or $55 for all three days.
Schedule
Thursday, June 8th
Gates Open 9 AM for early pit parking only.
Friday, June 9th
Gates Open 9 AM
Test and Tune $30 (those running Test and Tune Only)
Cars and Bikes – 5 PM -10 PM
Gates Open 8 AM
Qualifying 11:00 (3 sessions)
Sunday, June 11th
Gates Open 8 AM
Opening Ceremonies 11:15 AM
Bill and Chrissy Rowe look forward to welcoming the AHDRA/AMA family to their first ever stop at Kuhnle Motorsports Park in Thompson, Ohio for the Advanced Sleeve All-Harley Buckeye Nationals.
There are more videos on the Cycledrag Youtube channel (please subscribe here) and the Cycledrag Facebook page (Please like here) and more will be coming soon. Check back daily.
To take advantage of some amazing discounts at Brock's Performance, click – http://brocksperformance.com?aff=12
USE cycledrag5 coupon code.