Former Pro Street Motorcycle racer Ida Zetterström, Susanne Callin, Jndia Erbacher – three women with one thing in common: they are Europe's fastest-ever racing drivers.
The trio all drive 10,000-horsepower Top Fuel Dragsters. Finland's Zetterström holds the European speed record at 321.01mph. Sweden's Callin is a shade slower at 320.20mph. Switzerland's Erbacher held the previous record at 318.96mph before the other two topped it at Santa Pod in May.
Now all three return to Santa Pod in a season-ending shootout to settle who will be 2023's FIA Top Fuel champion. The European Finals will see more than two dozen overseas entrants take on Britain's finest dragstrip practitioners across a range of two- and four-wheeled European championship title-chases supported by an array of UK national classes.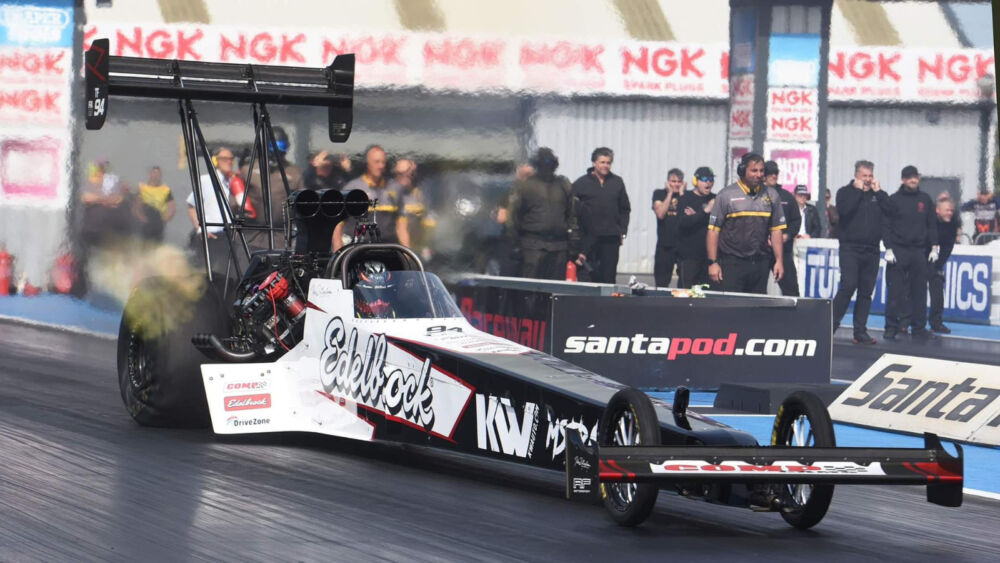 Free entry to the pits allows a close-up view of all the team mechanics in action. With more than 250 entries, there's no shortage of activity to see.
In Top Fuel, Malta's ex-champ Duncan Micallef and Denmark's Stig Neergaard will battle to uphold male honour in pursuit of their own race-winning ambitions. Gender is irrelevant in drag racing. While circuit racing still struggles to integrate female drivers in a male-dominated scene, women have been taking the fight to men in the straight-line sport for decades. The Zetterström-Callin contest for this year's FIA crown is just the latest example of female empowerment on the top rung of the sport. Erbacher, Micallef and Neergaard are no longer title contenders but are no less bent on adding another prestigious race win to their tallies and disrupting Zetterström's and Callin's showdown for the crown in the process.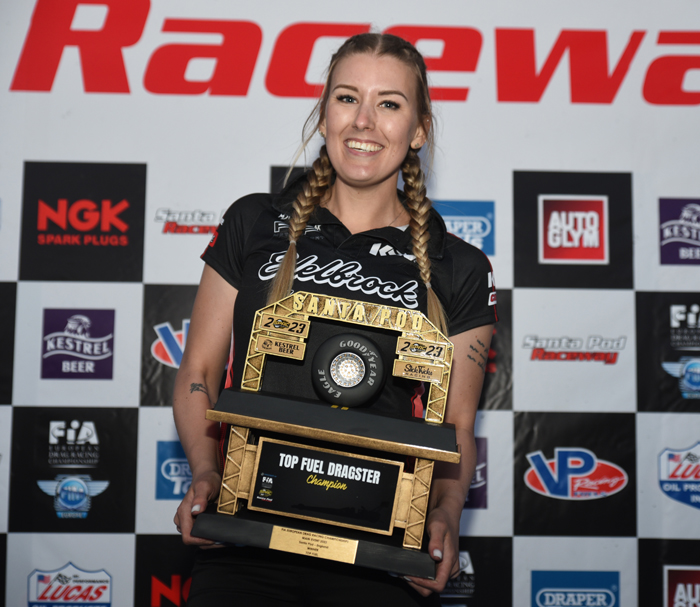 Almost as fast and just as loud as the Top Fuel Dragsters, five ground-pounding nitro Funny Cars provide a Swedish opponent, Patrik Pers, for Britain's high-octane, high-decibel quartet, Kevin Kent, Steve Ashdown, Kevin Chapman and Jason Phelps. Kent returns to the track after a race-winning, record-setting performance (4.187sec/291.25mph) in July.
Fifteen overseas entrants will make the trip to battle Britain's finest Pro Modified racers in a double-header contest combining rounds of the FIA European and Motorsport UK British championships. Sweden, Switzerland, the Netherlands, Germany, France and Estonia are all represented. Two Swedish racers share little mutual affection: veteran Michael Gullqvist has dominated the scene for so long with seven FIA Pro Mod championships under his belt but finds his rule usurped by Jan Ericsson, a comparative newcomer to the class who has scooped the last two championships in a row and leads again this season. Among their compatriots, fan-favourite Fredrik Fagerström brings his unique – indeed eccentric – Chevy truck, a blunderbuss amid a field of rotary cannons. 'Fast Freddy' delights the crowds with half-track burnouts and blistering reverses while his 5.9-second, 240mph capability can upset any storied opponent.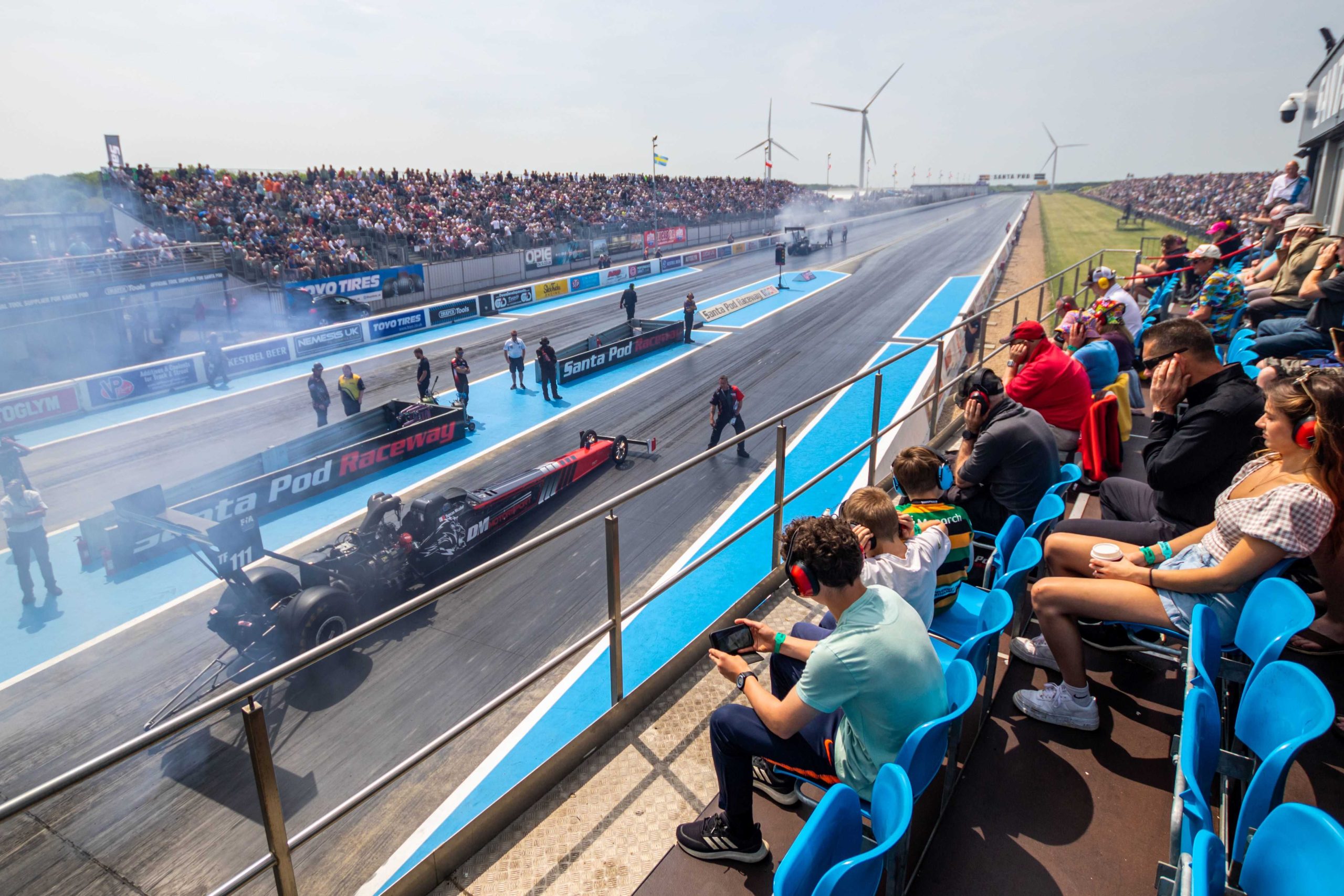 On two wheels, FIM-Europe competition includes Top Fuel Bikes, SuperTwin Bikes, Pro Stock Bikes and Super Street Bikes. Last time out at Santa Pod in May, Sweden's Top Fuel Bike champion Rikard Gustafsson twice exceeded 260mph to set a remarkable new European speed record. Similar exceptional performance figures were attained in Super Street Bike when Britain's race-winner Alan Morrison Jr. topped 230mph.
Alongside the championships, track action includes three spectacular Jet Cars and Graham Sykes' extraordinary steam-powered 'rocket' bike, Force of Nature (yes, powered by steam – boiling water!) which has already clocked sub-7-second, 150mph quarter-mile passes. Away from the track, Santa Pod's regular programme of family attractions includes Monster Trucks, stunt shows, children's entertainments, funfair rides and live music.

There are more videos on the Cycledrag Youtube channel (please subscribe here) and the Cycledrag Facebook page (Please like here) and more will be coming soon. Check back daily.