Brand Rivalry Finally Arrives in the NHRA's PSM
Published on September 9, 2006 by Bill Stephens · No Comments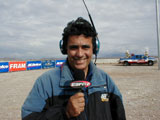 Bill Stephens is a guest columnist for CycleDrag.com. Stephens has been involved in the motorsports media for over 30 years and has compiled a lengthy resume of accomplishments. Most notably he has hosted NHRA Today, NHRA Heat, and served as a pit reporter for the Daytona 500. Currently, he can be seen on ESPN 2 on such programs as Inside Drag Racing and The Mother's Car Show

Although, I've spent my entire life drawn to machinery that goes fast, I have to admit motorcycles have never been in my field of expertise. I'm a Car Guy through and through. So why am I writing for this website? Fair question.
Well, for one, the founder of this new venture is my friend and ESPN colleague Jack Korpela, who asked me if I'd like to be a contributor to CycleDrag.com. And secondly, I've spent the last 14 years covering the NHRA's POWERade drag racing series and have become a fan of the Pro Stock Motorcycle class, and that has led to me becoming more knowledgeable than I ever imagined I would be in a two-wheeled arena.
So, I'll be tapping out some observations on a semi-regular basis here in this space pertaining to those sub-7-second PSM's that are such a blast to watch.
Back when I began my television motorsports career with the old Diamond P Sports operation down in Nashville, there was really only one name that stood head and shoulders above all the others in the Pro Stock Bikes and that was the late, great Dave Schultz. He won six World Championships aboard his record-smashing Suzukis and set so many performance milestones during his fabulous racing exploits, I could never list them here. When he died five years ago after a valiant battle against abdominal cancer, we truly lost a tremendous champion and gentleman.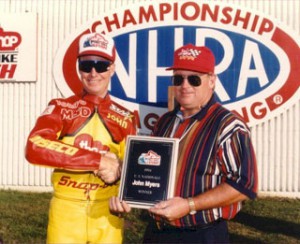 John Myers was another multi-time PSM champion, who won three NHRA titles with George Bryce and his infamous Star Racing motorcycle team out of Americus, Georgia. There were many memorable Schultz vs. Myers match-ups during their Hall of Fame careers and their domination in the category was immense. Alas, John was the victim of a fatal non-racing motorcycle accident while riding with some friends in 1998 which was a stunning blow to the entire drag racing community.
One major factor which existed during the heydays of Schultz and Myers which has gradually been turned on its ear 180-degrees in the last three years has been the single-brand playing field in PSM. Throughout the prior two-and-half decades, Suzuki has been the motorcycle make that has ruled the PSM roost. Kawasaki was an occasional player in the PSM hierarchy, but Suzuki held a stranglehold on the NHRA championship high ground almost exclusively, and it wasn't until three years ago, when Vance & Hines finally became a real threat with their "Screamin Eagle" V-Rods that the landscape in the Pro Stock Motorcycle maelstrom took on a completely different appearance.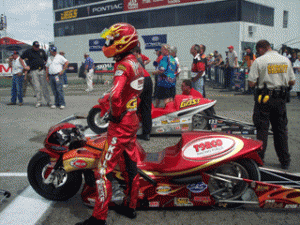 It has been a banner development for the category and after some rules adjustments and weight breaks to help even the odds for the Suzukis and the Harleys (and Buells), the NHRA has achieved some provable parity in the PSM ranks. Take a look at this year's national event results and you'll see that in the first eight races of 2006, Suzukis have won four of them and Harleys and Buells have won the other four. Andrew Hines and his V-Rod lead the points and Angelle Sampey on her U.S. Army Suzuki is very close behind. Throughout the top ten in points, you'll see a mix of racers campaigning imported and domestic iron and that has led to the kind of situation that has always been the very high-octane ingredient which fires up fans: brand rivalry and the chance for the riders who support one make to root for their favorite team while those who stand behind another nameplate try cheering a little louder. And until only a few years ago, that kind of competitive battleground just didn't exist in the PSM class.
It appears as if this year's POWERade championship tussle is going to go right down to the wire, and I wouldn't be surprised if the championship was finally clinched at the very last race of the year in Pomona, Calif. in November. We've seen that kind of drama in the past and if it happens again this season, it will only add to what has already become a wild, unpredictable, and wide-open free-for-all in a category which used to be a one-horse town.
Step up, place your bets.
Tags: Bill Stephens, Column, Dave Schultz, Editotrial, John Myers, NHRA, Pro Stock Motorcycle